Exploring Long Island Bahamas: A Guide to Boating, Fishing, Snorkeling, and More
Are you searching for your next vacation spot? Look no further! Long Island Bahamas is the perfect destination for adventure seekers and beach lovers alike. From boating and fishing to snorkeling and diving, this island has everything you need for a memorable trip filled with fun activities. Let's dive in and explore all the things you can do while on vacation in Long Island Bahamas, from the crystal-clear waters to the delicious local cuisine.
About 130 miles southeast of Nassau and Paradise Island, near the Tropic of Cancer, lies Long Island.
Many consider Long Island, Bahamas, the hidden gem of the Bahamas. An 80 miles long and 4 miles wide Island. With only approximately 4,000 inhabitants, Long Island's natural beauty and relaxed feel is a sharp contrast to Nassau's crowded hustle and bustle.
Much of Long Island has not been developed, which provides a unique vacation for those who want to get away in a private, relaxing, laid-back environment. Of course, the beaches are famous, but so are the world-class diving adventures, snorkeling, and fishing. With miles of rolling hills and nature trails, you can truly experience a Bahamas island in its native setting.
A well-paved road follows the island's entire length, making it easy to explore by rental car. There is no lack of dramatic ocean views on all sides of the island. White sand beaches are abundant, yet crowds are not, often offering a private beach paradise to swim, snorkel or bask in the sun. Saltwater flats will provide bonefish anglers with a rare and cherished experience of solitude. If you're seeking to add some local culture along the way, stop at any number of the many roadside conch bars and restaurants, where you can share a midday reprieve with island residents.
Explore uninhabited cays and hidden coves, attend a regatta, go on a shark dive, or hike a nature trail. Long Island provides a year-round tropical beach vacation adventure.
Long Island is a perfect spot to go boating. The clear turquoise waters are home to a variety of marine species and the warm sun on your skin will give you a natural tan you've been looking for. Whether you're an experienced sailor or a newbie, you can rent a boat and enjoy a day trip out to sea. Explore the hidden coves and stunning beaches and take a dip in the pristine waters. You might even catch some dolphins in your wake if you're lucky.
If you love fishing, Long Island Bahamas is a great spot for you. The island has plenty of shallow water areas perfect for bonefishing, a popular local activity. You will get a chance to catch some sharks too in the waters. The fishermen are hardworking and invite you to come to join them for a day trip to fish their sustainable way. You can catch snappers and groupers from the boat or fly-fish in the flats. Just make sure to check for licenses and regulations before your trip.
The surrounding waters of Long Island Bahamas have some of the best snorkeling and diving spots in the Caribbean. The Dean's Blue Hole is a must-visit spot for diving enthusiasts. The hole is the deepest in the world and has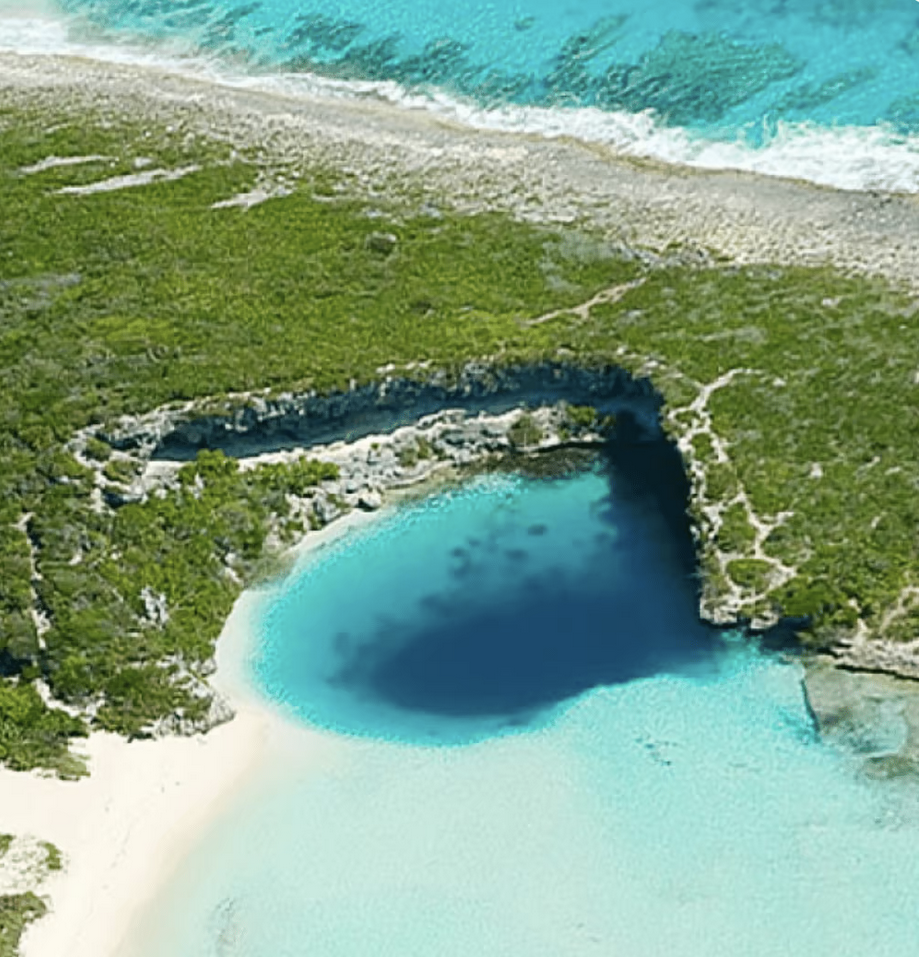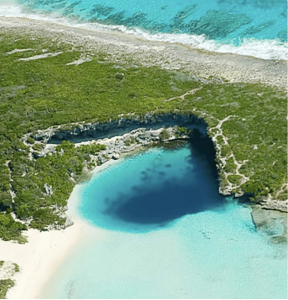 attracted a lot of admirers worldwide. You can snorkel with sea turtles, eagle rays, and starfish in the shallow waters. There are plenty of underwater structures, coral reefs, and even wrecks to check out. This is definitely a highlight for most tourists.
Scuba Divers like the coral reefs and blue holes, walls, caves, and shipwrecks. Shark dives, dolphins, and stingrays are all part of the experience. While veteran divers know their way around the ocean floor, guides are always around to help beginners experience life under the sea. Island visitors can also take a bike ride and picnic on unexplored beaches, kayak the estuaries and see the turtles, rays, the abundance of sea life swimming and living beneath the clear blue waters, skimboard the surf, and paddleboard the leeward side of the island.
Dean's Blue Hole, Long Island, Bahamas
Dean's Blue Hole is a blue hole located on Long Island in the Bahamas. It is the world's second-deepest blue hole, with a depth of over 663 feet (202 meters). The hole is circular and is surrounded by a coral reef.
Diver William Beebe first discovered the hole in the early 1930s. He named it after the island's Dean family, who were the owners of the land where the hole is located. Since its discovery, the hole has become a popular destination for divers from all over the world. Many people come to see the beautiful coral reef surrounding the hole and to experience the thrill of diving into its depths. If you're looking for an adventure, and a chance to see some of the world's most stunning underwater scenery, then a visit to Dean's Blue Hole is a must.
Deans Blue Hole is the world's deepest known blue hole, located on the southern half of the island, minutes from Winter Haven in Clarence Town. This 663-foot deep hole is named for the Bahamian family that owns the property. Free-diving professionals revere this site as it allows them to explore the ocean's depths.
The hole is formed from rainwater that soaked through limestone bedrock fractures onto the water table during the Pleistocene Epoch, or Ice Age. The Blue Hole is fairly circular in shape at the surface level, with a diameter ranging from 80 to 120 feet. After descending 60 feet, the hole opens up into a cavern with an underwater cave system.
The depths of the hole and the underwater cave system have yet to be fully explored, making it an exciting destination for free divers and scuba divers alike. If you're looking for an adventure, Dean's Blue Hole is the perfect place to start!
Tidbits: A French freediver broke the world record for deepest dive with bi-fins as he descended to a depth of 120m (393ft) at Dean's Hole on Long Island, Bahamas on August 10th, 2022. During the annual Vertical Blue competition, Arnaud Jerald took 3 minutes and 34 seconds to complete the dive. How far can you dive?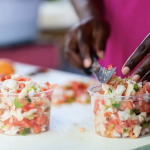 The local cuisine of Long Island is a must-try during your visit. From fresh seafood to traditional conch salad, there is something for everyone. There are many roadside food shacks and restaurants to choose from. During your visit, make sure to take a trip to one of the farmers' markets where you'll find a selection of fresh vegetables, fruits, and local arts and crafts to take home as souvenirs. The local regatta is a carnival of boats and people coming together to greet and enjoy the weekend.
Long Island Bahamas has it all, from adventure activities to fresh and delicious food. This island truly is a vacationer's paradise. Whether you want to explore the depths of the sea or simply relax on a beach, Long Island Bahamas has something for everyone. So book your flight now, pack your bags, and get ready to experience a remarkable adventure!
Beaches on Long Island, Bahamas
Let's start with Watermelon Beach – one of the most popular beaches on Long Island. The name itself calls to the mind the juicy and refreshing fruit, and just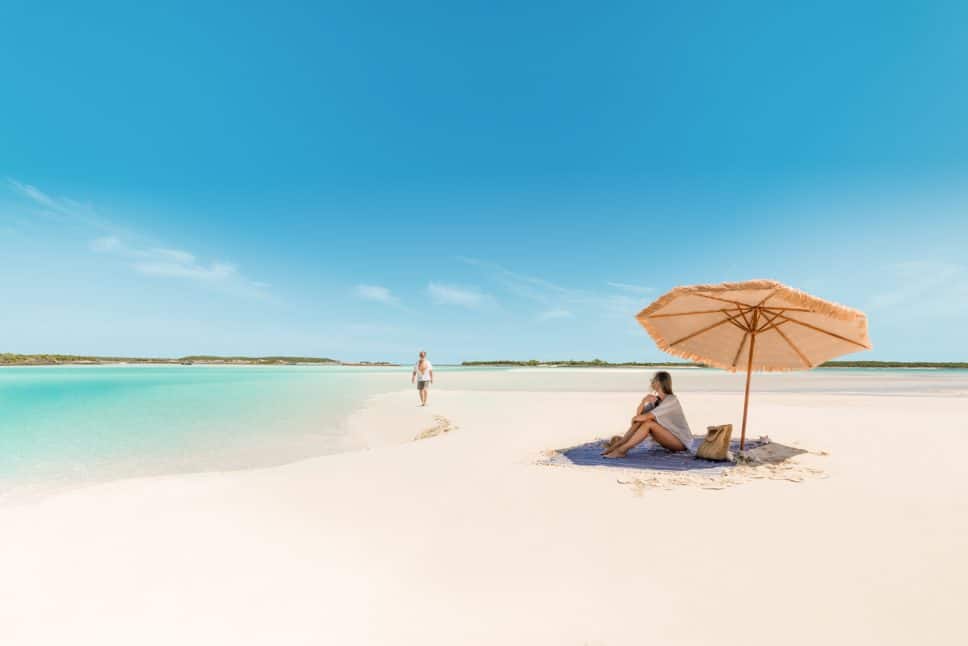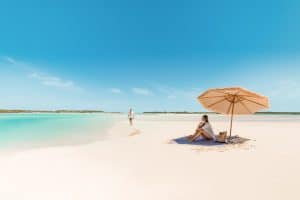 like its name, this beach is breathtakingly beautiful. The white sand stretches as far as the eye can see, and the turquoise water sparkles in the sun. This beach offers a perfect combination of relaxation and local culture, with plenty of local food and drinks stalls and cultural exhibits taking place regularly.
If you prefer a quieter beach experience, Lochabar Bay Beach is the perfect location for you. This secluded beach offers a tranquil atmosphere with no distractions, allowing you to fully concentrate on enjoying the crystal-clear water and soft sandy beach. With a few small restaurants and bars located on the beach, you can indulge in delicious local seafood and drinks while taking in the stunning views of the Caribbean.
For those who seek adventure and excitement, we recommend Dean's Blue Hole Beach. The main attraction of this beach is the mesmerizing and picturesque blue hole, a natural saltwater pool that is over 600 feet deep. This beach is perfect for the adrenaline junkies who love to cliff dive and free-dive or for those who are just up for a thrilling experience.
If you love marine life, you must visit the stunning Turtle Cove Beach. This beach offers a stunning view of the cove, which is surrounded by beautiful mangroves and cliffs. You can see a wide range of marine animals like turtles, sea urchins, and starfishes swimming around you in the clear waters. The beach is also perfect for snorkeling and diving, allowing you to explore the unique aquatic life around the Island.
Last but not least, if you're an avid surfer or looking to learn to surf, you must not miss out on Cape Santa Maria Beach. You can hit the gnarly waves or even take private surfing lessons to learn from experienced surfers. The beautiful golden sand and clean, clear water are a surfer's paradise, so don't forget to pack your surfboard!
No matter what type of beach experience you're looking for, you're sure to find it on Long Island, Bahamas. So, grab your sunscreen, paddleboard, kayak, beach toys, and lunch, and head to one of these beautiful beaches today! Book your flight to Long Island and check them all of!
Love Beach
Watermelon Beach
Galliot Cay beach
Newton Cay Beach
O'Neill's Beach
Turtle Cove Beach
Lochabar Bay Beach
Cabbage Point Beach
Grays Harbor Drive Beach
McCann's Beach
Salt Pond Beach
Stella Maris Beach
Cape Santa Maria Bay & Beach
Millerton School Beach
Deal's Beach
Long Island, Bahamas Hamilton's Cave
Hamilton's Cave is a hot spot for an underground adventure. Run by Leonard Cartwright and his family, this cave system is thought to be the most extensive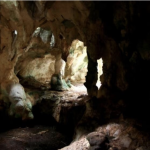 set of caves discovered in all of the Bahamas and was previously inhabited by the Arawak Indian Tribe. Cartwright's family purchased the cave property—including 90 total acres—for £27 from the English in the 1840s. Since, the Cartwright family has found numerous Arawak artifacts inside, including dishes and tools. The Cave has a fresh underwater spring, many stalactites, stalagmites, and various species of bats.
To get to the Cave, visitors must first take a short hike through the tropical vegetation. Once at the entrance, they will need to crawl on their hands and knees for about 50 feet (15 meters). Then, they can stand up and explore the rest of the cave system, which includes several chambers and a cathedral-like room with a 50-foot (15-meter) high ceiling.
Hamilton's Cave is one of the most popular tourist attractions on Long Island. Visitors can take a self-guided tour or join a guided tour led by one of the Cartwright family members. $15 for adults and $8 for children. You can call (242) 337-0235 or (242) 472-1796 to make a reservation.
Long Island Museum
The Long Island Museum is a museum that is part of the National Museum of The Bahamas/Antiquities, Monuments, and Museums Corporation. The museum is committed to the preservation and interpretation of the history and culture of Long Island for Bahamians, visitors, and future generations. The museum features exhibits showcasing the history, culture, and customs of Long Island. These exhibits include how the homesteads used to look in the old days before the conveniences of the modern age took effect. Thatched roofs, oil lamps, goose irons, tureens, and washboards are some items on display at the museum. The museum also has a gift shop where visitors can purchase souvenirs.