Explore the Beauty and Adventure of The Family Islands in the Bahamas with Makers Air
Looking for a lovely getaway with your family? The Family Islands in the Bahamas offer you the perfect escape from your monotonous routine. With mesmerizing turquoise water, sandy beaches, and a plethora of fun activities, what more could you ask for? And the best part? The adventure starts the moment you board a flight with Makers Air.
Makers Air flies to family islands in the Bahamas- Andros, Cat Island, Eleuthera, Staniel Cay in the Exuma Cays, Long Island, Great Harbour Cay, and Chub Cay. Each of these islands boasts its unique beauty, history, and adventurous activities.
Andros, the largest island, is known for bonefishing, hiking, and birding. The island is home to Andros Barrier Reef, the third-largest reef in the world.
Chub Cay, is famous for its marine life. It's an ideal destination for diving and snorkeling which makes it one of the favorite spots for tourists.
Cat Island is known for its beautiful pink sand beaches with crystal-clear water which is a breathtaking sight. The island has a rich history with ruins from the early 1600s and various historical landmarks.
Eleuthera is known for its serene pink and white sand beaches and vibrant sea life. It has a perfect blend of adventure, history, and serenity.
Exuma Cays is a must-visit island with its beautiful chain of cays with clear blue water, perfect for snorkeling, swimming, and kayaking. The island is one of the preserved natural jewels in the Bahamas.
Long Island is perfect for those who want to escape the hustle and bustle of the city and enjoy the natural beauty of the Bahamas. The island is famous for its blue hole and the Dean's Blue Hole which is great for diving.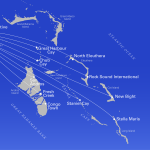 With a plethora of family islands to choose from, you are sure to have a memorable vacation flying with Makers Air. Not to mention, we provide an exclusive experience of luxury with safety. Book your flight today and get ready to experience the beauty and adventure of the Bahamas Family Islands with Makers Air.