Book Direct Flights to Cat Island
We have weekly scheduled flights to Cat Island Bahamas. Scroll down to learn more about all there is to do and see. Book online and save! Book Direct Flights to Cat Island
Makers Air is the premier charter airline with daily Bahamas flights. Our goal is to connect passengers to paradise, crafting a flight experience that brings reliable, memorable, and convenient getaways to our customers.
The Natural Beauty of New Bight, Cat Island
From the breathtaking New Bight Beach to the gorgeous Mount Alvernia, Cat Island has many natural attractions for you to enjoy. Everything on this island has an authentic feel to it.
Makers Air provides flights from Fort Lauderdale to Cat Island several times a week to make your Bahamas vacations seamless.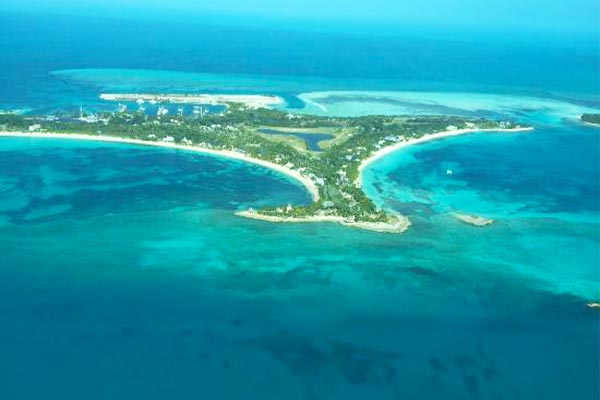 Accommodations on New Bight, Cat Island
If you fancy rustic hotels that give off a relaxing vibe, Cat Island has lots of options for you to select. The island offers numerous village resorts and villas that stay true to the island's pristine and simplistic nature.
You can check in at the following spots:
Please contact the hotel for flight promotions
Also located on the island is Fernandez Bay Village (FBV), which features a stunningly designed clubhouse area. Here, you can enjoy unique evening cocktails at the tiki bar or shop for some antiques at the boutique shop.
Please contact the hotel for flight promotions
The Shannas Cove Resort offers stunning beachside views and a wide range of Caribbean delicacies. Guests also get to spend their days snorkeling and kayaking at the nearby shore.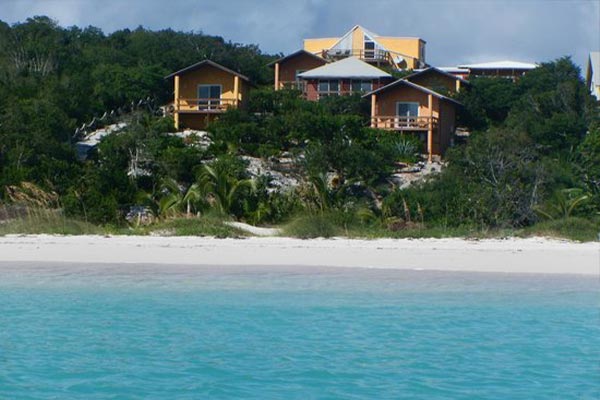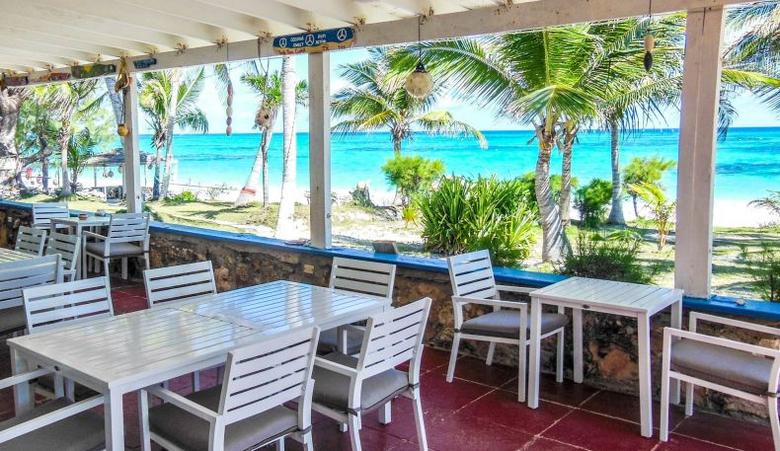 With only 16 rooms, this resort boasts a homely, intimate ambiance. You'll also get to enjoy unobstructed views of the clear waters from the ocean view terrace. From the resort's clubhouse, the pink-sand beach is only a stone's throw away.
For the ultimate oceanfront experience, book a cottage at Ocean Dream Beach Resort. The cottages sit atop a hill, allowing guests to fully take in the surrounding natural beauty.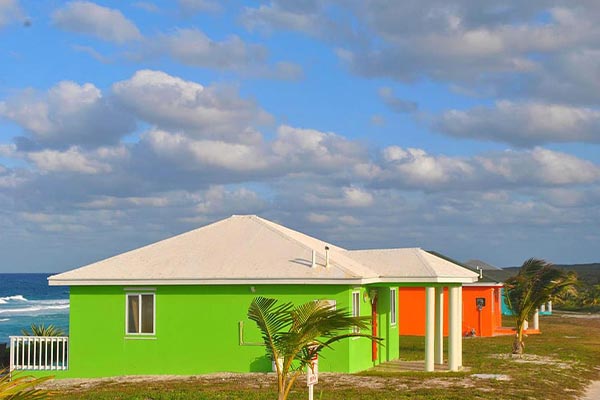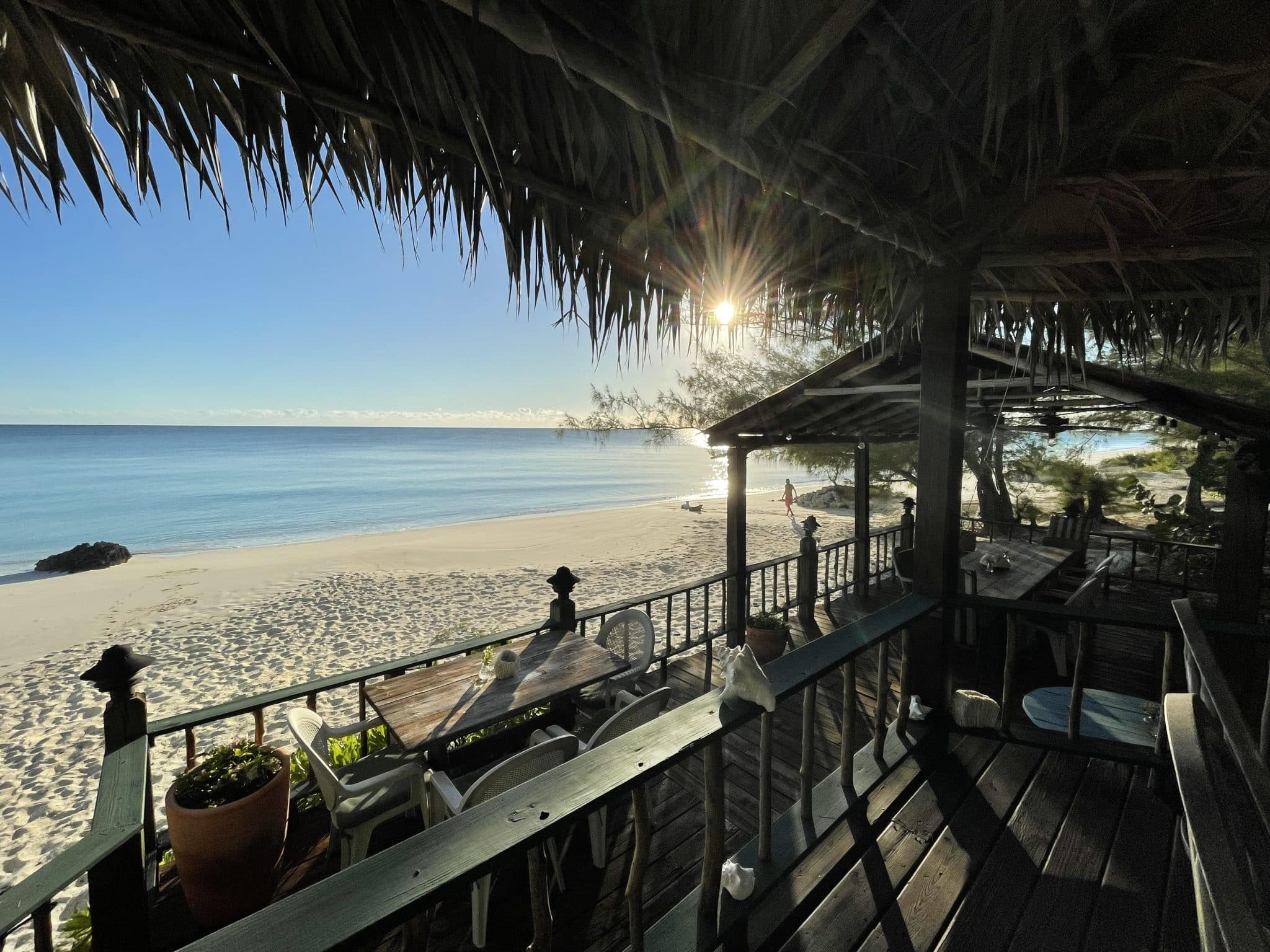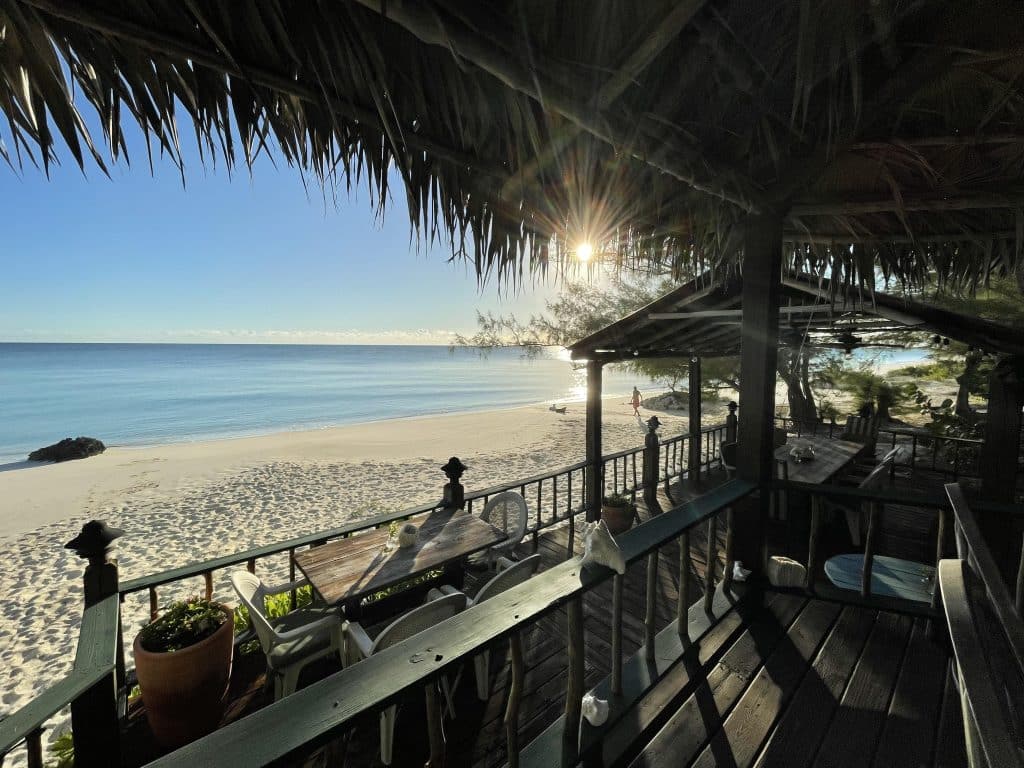 Pigeon Cay Beach Club is located in the middle part of Cat Island, approximately 20 miles north of the New Bight Airport (TBI). Eight individual, fully equipped cottages on a three-mile White Sand Beach. The guests have complimentary use of bikes, kayaks, and paddleboards. They offer breakfast each morning and dinners Wednesday -Saturday served at the outdoor dining Beach Bar. Self-catering and room service options are available.
Come Swim in the Sea, Gaze at the Stars, Listen to Birds Sing, enjoy the Peace at Pigeon Cay Beach Club.
Located just 15 minutes from the airport, Sammy T's Beach Resort is an affordable three-star accommodation facility that offers room service and coatroom service. Some rooms even feature a minibar.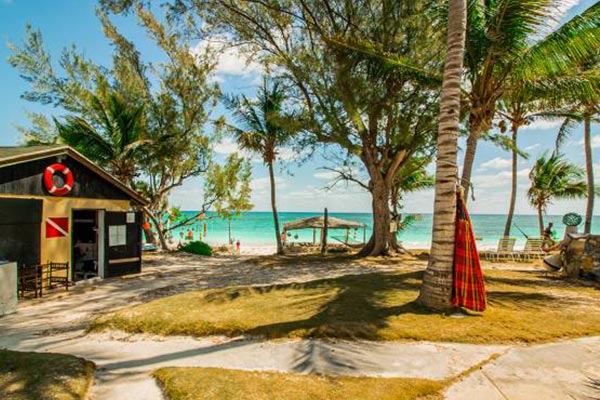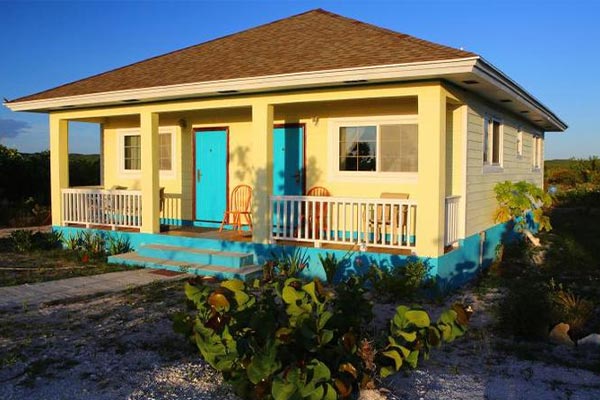 Rollezz Villas Beach Resort
At this resort, you'll get to enjoy breathtaking views of the ocean while listening to melodic indigenous music at an open-air eatery. The hotel also offers boat rides to the nearby beach at Joe Sound Creek.
Interesting History and Culture of New Bight Cat Island, Bahamas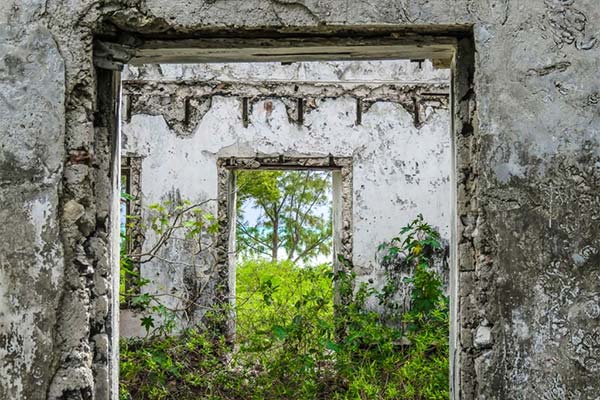 This island is not just all sites and attractions – the local culture is equally fascinating.
Cat Island got its name from Arthur William Catt – a 17th-century British pirate who (according to Bahamian folklore) used to frequent the island to hide his loot.
With the Bahamas being a significant part of the 18th-century international trade, Cat Island was a primary market.
If you don't fancy sightseeing, you can always get to listen to Bahamian rake-and-scrape artists performing at local bars and restaurants. Cat Island is the birthplace of this traditional world-renowned music genre.
Fun Things to Do in New Bight, Cat Island
Attractions aside, Cat Island has tons to offer when it comes to adventure. Some of the fun activities to do here include: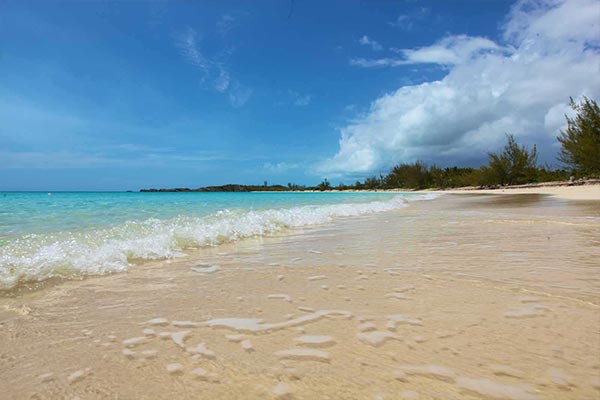 Located on Queen's Highway, New Bight Beach is a lovely spot to take in the soothing tropical sun while sipping away on your favorite drink.
The clear waters provide the perfect spot for snorkeling and surfing. The beach also annually plays host to the Cat Island Regatta – a yearly sailing event.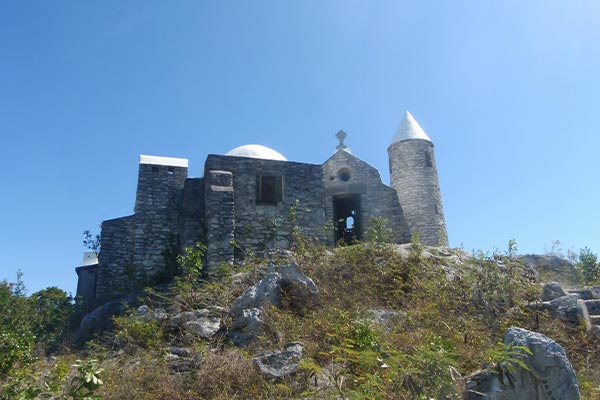 Taking a ten-minute hike to the top of the Bahamas' highest point is a great way to exercise and get in touch with nature.
When you reach the summit, you'll experience breathtaking bird's-eye views of the island's panoramic landscape.
A beautiful medieval monastery – The Hermitage – also sits at the summit.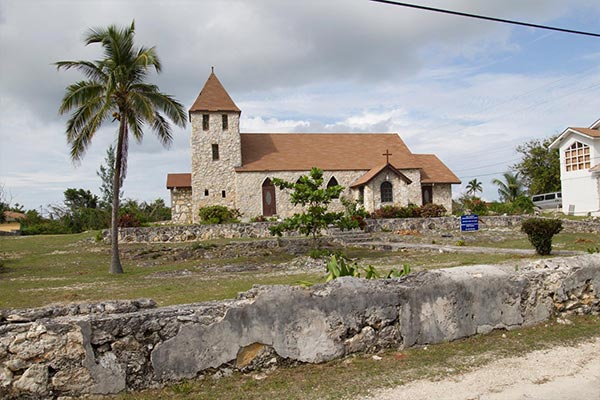 Sir Sidney Poitier's Childhood Residence
This renowned American actor of Bahamian descent called Cat Island home. If you're a fan of his big-screen works, visiting this site and taking photos will create some great memorabilia.
Frequently Asked Questions Before Flying to Cat Island
What is Makers Air?
Makers Air (FAA Certificate number N5CA865Y) is a certificated On-Demand / Commuter Air Carrier and holds Economic Authority issued by The Department of Transportation. All flights provided by Makers Air are conducted in accordance with 14 CFR Part 135 of the Federal Aviation Regulations
We have been in business since 2002 with our base of operations at Fort Lauderdale Executive Airport. We offer both private charters and scheduled service, as well as freight service, to numerous destinations in the Bahamas.
How do I confirm my tickets?
Acceptance of these Terms and Conditions and payment in full are required to secure tickets. Reservations may be made directly online at our website, MakersAir.com, or by calling (954) 771-0330. Makers Air accepts American Express, MasterCard, and Visa. You will receive a confirmation itinerary via email for all tickets and charters.
What Form of Payments Do You Accept?
The preferred form of payment is a credit card. We take MasterCard, VISA, Discover, and American Express.
Any freight invoices that go unpaid after 30 days will be subject to late charges.
Are all the taxes and fees included in the quoted price?
On all scheduled service fares, the price on your itinerary includes all applicable taxes and fees. However, extra baggage charges, if applicable, are NOT included in this price. On private charters, certain landing fees, customs overtime fees, etc. may not be included in the quoted price. This will depend on the specific charter details (time, destination, etc.) which will be explained by our Charter Coordinator to you.
I need to change my ticket to Cat Island. What is your policy and how do I make this change?
Makers Air understands that plans change sometimes! Should your travel plans change, simply complete a Makers Air Travel Reschedule Form. Your change fee will be waived for changes made at least 14 days prior to your original departure date. For changes made within 14 days, please see below for fees:
$75 per passenger for changes made 8 to 13 days prior to departure
$100 per passenger for changes made 2 to 7 days prior to departure
$150 per passenger for changes made up to 8 hours prior to departure
If changes made inside of 8 hours of departure, customer forfeits ticket
I need to cancel my ticket. What is your policy and how do I cancel?
Should you need to cancel your trip completely, please complete a Makers Air Travel Reschedule Form. A travel voucher will be issued to you. This voucher is valid for travel within 12 months and cancellation fees will apply, as outlined below.
No change/cancellation fee for changes/cancellations made at least 14 days prior to departure
$75 per passenger for changes/cancellations made 8 to 13 days prior to departure
$100 per passenger for changes/cancellations made 2 to 7 days prior to departure
$150 per passenger for changes/cancellations made up to 8 hours prior to departure
If changes/cancellations made inside of 8 hours of departure, customer forfeits ticket
Regarding your travel voucher: Extensions beyond one year are not possible. Passengers who do not notify Makers Air in writing at least 8 hours in advance of their scheduled departure forfeit their right to a voucher for future travel. Notification to Makers Air must be made via this form. Phone calls or voicemails will not be accepted. All tickets are non-refundable as outlined on your ticket confirmation.
Can a minor travel unaccompanied?
Yes, a minor can travel unaccompanied as long as they have a notarized permission letter with both parents signatures on it. Additionally, a copy of this notarized letter must be emailed to our Reservations team at least 24 hours in advance at info@makersair.com.
Can I bring my pet to Cat Island?
Pets are welcome to fly with us as long as we are notified AT THE TIME OF BOOKING and all other rules and regulations are followed. You must also have the proper pet permitting required by the Bahamas Government. Due to regulations, you must call the office, before booking your flight, at 954-771-0330 to confirm that there is space available on your flight for your pet. The minimum pet fee is $35 or $2.00 per pound, whichever is greater. The "per pound" pet charge will include the crate's weight or "carrier." Pet must remain confined to an FAA-approved carrier for the duration of the flight. Please note that while in our lobby, all pets must remain in their crate or on their leash.
If you are traveling aboard our private charter aircraft (N633AH), only one pet up to 10 lbs is allowed and must remain confined to an FAA-approved carrier for the duration of the flight.
Makers Air follows all Department of Transportation guidelines regarding service animals vs. emotional support animals.  Please see links below for further details and clarification.  If you wish for your service animal to travel with you aboard a Makers Air flight, please be sure to complete the Service Animal Form and return toinfo@makersair.com at the time of booking your flight.
What is your baggage policy?
Each ticketed passenger (with the exception of lap babies) may check up to 40lbs of baggage at no charge. This 40lbs is inclusive of your personal items such as handbag, laptop bags, etc. as well. Excess baggage beyond 40 lbs will be charged an Excess Baggage Fee of $1.75 per pound and is not guaranteed to make the flight unless a Guaranteed Cargo Delivery block was purchased at least 24 hours in advance.
If you anticipate having excess baggage that must travel with you, please contact our Freight Department at Freight@makersair.com a minimum of 48 hours in advance to discuss your options. Please note that all items, including any items that fly unaccompanied, passenger excess luggage and Guaranteed Cargo Delivery, are subject to duty and must have receipts and invoices for all items contained within. You are responsible for payment of duty,VAT and any other applicable fees.
How do I get to Makers Air for my flight?
Makers Air is located at 2331 NW 55th Court, Hangar 19, Fort Lauderdale, FL 33309 at Fort Lauderdale Executive Airport.
Approximate drive time to Fort Lauderdale International Airport (FLL) – 20 minutes.
Approximate drive time to Miami International Airport (MIA) – 35-45 minutes.
Approximate drive time to Palm Beach International Airport (PBI) – 35-45 minutes
From I-95: Take the Commercial Blvd exit (#32) and head west approximately 2 miles to NW 21st avenue. Make a right turn on NW 21st avenue and follow the road about three quarters of a mile.
From the Turnpike: Take the Commercial Blvd exit (#62) and head east approximately 3 miles to NW 21st avenue. Make a left turn on NW 21st avenue and follow the road about three quarters of a mile.
We are located on the right-hand side of the road in hangar #19. You will see a sign above the bay door that says Makers Air. The office and lobby are located on the left side of the building. Makers Air provides complimentary valet parking for our passengers.
I'm flying into FLL, MIA or PBI airport. How can I get from there to Makers Air?
There are many options for transportation to our hanger – car service, rental cars, Uber, Lyft, and taxis. Please feel free to contact our Reservations team should you desire further information.
How early do I need to arrive at the airport?
All passengers must arrive and check-in a minimum of 60 minutes prior to the scheduled departure time. Please note that flights may depart up to 30 minutes earlier than scheduled departure time.
Can I park at Makers Air?
Makers Air strongly encourages passengers to utilize Uber or other ride-share services as parking is extremely limited. Should it be necessary to bring your own car, Makers Air does provide valet parking for our passengers. Self parking is not available. Makers Air is not responsible for any damage or theft to vehicles or their contents. Please note that parking is unsecured and there is no security. Long-term parking is not allowed.
I need to book a connecting flight. How much time do you recommend I give myself?
We recommend giving yourself a minimum of a 3 hour buffer between connecting flights if leaving out of Ft. Lauderdale International airport and a 4-hour buffer if leaving out of Miami International airport. This buffer is to account for any delays at US customs, any possible delays due to inclement weather, any travel time between airports, or any other unforeseen delays that could arise. Makers Air is not responsible for costs incurred by the Passenger (hotel, missed connections, etc.) due to any delays because of weather, mechanical issues, customs and immigration delays, or any other reason beyond our reasonable control. Trip Insurance will protect against such events and is strongly encouraged. Please contact a reputable travel insurance agency to protect your travel investment.
Are there any nearby hotels in Fort Lauderdale that offer a discount if I fly with Makers Air?
Yes! Makers Air passengers receive exclusive benefits at various local establishments. Click here to view!
Bahamas Travel Resources
Effective September 22, 2022, all COVID restrictions have been lifted in the Bahamas. No COVID tests are needed to enter the country, whether vaccinated or unvaccinated. 
Am I allowed to bring fruits, vegetables, meat, poultry, or eggs into Cat Island, Bahamas?
 Cat Island Notice of Agricultural Permits Requirements
No passenger may bring fruits, vegetables, meat, dairy, poultry, eggs, flowers or plants without an Agriculture Permit issued to them by the government of the Bahamas. Passenger must apply and pay for permit a minimum of 72 hours prior to departure. Bahamas customs has the right to open and inspect all baggage, coolers, boxes and other passenger belongings. Items may be confiscated by Bahamas Customs without proper permitting. Please click here for further information and permitting paperwork.
Can I bring my fishing poles with me?
A: Yes! However, the max length of the rods can only be 6 feet due to our cargo pod length. Also, please be sure the lines are spooled to the reels and not set up on the rod. No hooks should be attached at all due to safety reasons. Please note that Makers Air is not responsible for any damage that could occur to the rod during loading or cargo shifting in the pod during flight.
Can I bring alcohol or cigarettes into the Cat Island, Bahamas?
Bahamian Law allows Duty Free (into Cat Island, Bahamas):
$100 total of duty-free items to visitors
1 qt. of liquor OR 1 qt. of wine OR 1 6-pack of beer
200 cigarettes OR 50 cigars
NO FRUITS OR VEGETABLES
How do I travel with a drone to Cat Island?
Bahamas Drone Regulations. According to Bahamas's national aviation authority, the Bahamas Civil Aviation Authority (BCAA), flying a drone is legal in the Bahamas, but we recommend being aware of and compliant with the drone regulations listed below before doing so. You need to register your drone.

If you'd like to contact the BCAA directly before you travel with any questions you might have, here is their contact information: dronesupport@bcaa.gov.bs/ +1 242 397 4700
General Rules for Flying a Drone in the Bahamas
Based on our research and interpretation of the laws, here are the most important rules to know for flying a drone in the Bahamas.
A permit is required for all drone use in the Bahamas. See the section below for more information.
You must register your drone to fly in the Bahamas. The registration portal can be found here.
Do not fly within 50 ft. of any person, building, or vehicle not associated with the drone's operation
Do not fly over or within 150 meters of any congested or populated area.
Do not fly higher than 400 ft.
Do not fly within 5 nautical miles of any airport.
Do not fly over private property unless you have consent from the property owner.
Do not fly over military installations, nature reserves, or areas labeled a "no drone zone."
Do not fly at night or in bad weather conditions with low visibility.
Freight Duties and Levies
The average duty is 45% of the total landed value ($ value of item + any insurance premium + ALL shipping costs) of your items. However, a few common items are either free or somewhat less. Duty will be collected at the port-of-entry for all parcels being shipped to: Chub Cay, Great Harbour Cay, North Eleuthera, Rock Sound, San Andros, Fresh Creek, Congo Town, Cat Island. You, the shipper, are responsible for being aware of and paying for, all duties and levies applicable to your package.
NOTE: If a parcel contains a repair/replacement part for a vessel, and you submit a valid cruising permit to us at time of delivery, you may only be subject to entry and processing fees. However, not all replacement parts fall under this condition, so please contact the freight department with any questions.
If a parcel contains building materials (materials used in the structure of building), you may only be subject to entry and processing fees. Please visit www.bahamas.gov.bs for information on duties, exemptions, levies, VAT, etc.
Will US Customs allow me to bring back shells, fish, driftwood, etc back into the United States?
Fruits, meats (including pork products of any kind), plants, or vegetables are not allowed to be brought back into the United States, even if they were originally purchased in the US.
Coral, sea fans and/or driftwood are not allowed to be brought back into the United States.
Some shells may be permissible, if they were washed with bleach.
Conch/Fish: 10lbs per person is permissible
Lobster: 6 lobster per person is permissible (must be more than 6 inches in length)
If you are carrying in excess of $10,000 in any monetary form, you are required to declare this to United States customs.
What Are The Special Handling Charges?
Special handling charges may apply on exceptionally bulky or heavy items, repackaging, storage, Hazmat, forklift, domestic shipping, etc. Storage fees will apply to parcels left at our facility for over 1 week without contact or shipment information.
You may ship perishable items. Perishable items always fly at the Priority Rush Rate as we cannot store them. All deliveries of perishable items should be individually coordinated with our Freight Department to ensure prompt and expedited delivery.
How Do I Register for a Click2Clear account?
Thank you for reaching out to the Makers Air Freight Department! We will respond to you shortly. In the meantime, we are excited to announce that Makers Air is fully compliant with the new Click2Clear program implemented by the Bahamas Government. It is mandatory that anyone (Bahamian or US residents) that ship items into the Bahamas be registered online for this new system.
It is extremely important to note that your name on the Click2Clear account must exactly match the name on your packages. If this name is different from your previous shipments with us, it is vital that you update your Makers Air account with the valid name as soon as possible in order to avoid any delays or fines attached to your shipments.
Can I ship freight to the Bahamas?
Step 1: Create your free Freight Account with us
Step 2: Address your packages correctly
When you have your packages delivered to Makers Air, it is important they are addressed using the format below:
YOUR FULL NAME HERE
2331 NW 55th Court
Fort Lauderdale, FL 33309
*PLEASE NOTE: Do not
put our company name on the package.
Your
name must be on the package, and this name must be the
exact
match of your name registered with
Click2Clear
.
Step 3: Track your Packages
Please track your package deliveries to us online via the company you ordered from. Then email us at
Freight@makersair.com
24 hours after
ALL
your packages show as "delivered" to let us know you are ready for your bin to be pulled. We will then prepare your packages for shipment to the Bahamas. Please note we require that you give us 24 hours after your package is delivered to allow enough time for the package to be scanned into our system and distributed to your customer bin. Due to the volume of packages received daily, we do not call customers upon receipt of packages.
Step 4: Pay your Invoice
Once your shipment is finished being prepared, we will email you the invoice for payment. It is very important for you to review the invoice carefully and be sure that all the tracking numbers you are expecting in this shipment are there. Once you have double-checked the tracking numbers, simply click the link to pay your invoice. Upon receipt of your payment, your shipment will go out on our next available flight for delivery to you! Please note all delivery times are calculated from the date the package(s), documentation, and full payment have been received.
Additional Special Instructions for Customers Shipping to Staniel Cay
In order for your unaccompanied parcel to be shipped to Staniel Cay, you must register with Click2Clear. We are unable to ship anything for you without this registration. Additionally, we will need your receipt(s) for the items we are sending. This is required for customs – both U.S. Customs at departure and Bahamas Customs upon arrival. When you place an order, please ask the supplier to include an invoice/receipt and contact information for the recipient. Please note that you are responsible for payment of all duties, levies, and required broker fees. All packages shipped to Staniel Cay MUST include:
Invoice with total monetary value (item $, tax $, shipping $)
Cruising Permit (if applicable)
Recipient Contact Information (phone, email)
Where do we clear U.S. Customs & Immigration?
Upon your return to the U.S., the aircraft will taxi immediately to the U.S. Customs and Border Patrol offices at 5301 East Perimeter Road, Fort Lauderdale, Florida 33309. All items must be removed from the aircraft and each passenger is responsible for his/her own bags. Please stay with your pilot during this process and do not leave the building until instructed to do so. PLEASE NOTE: No mobile phone use is allowed for phone calls or texting while you are in the Customs building.
Flight Terms and and Conditions
Yes, You can read them by following this link:
Explore more destinations in the Bahamas
Enjoy Daily Flights to Cat Island with Makers Air
Look no further than Makers Air for convenient flights to Cat Island and other parts of the Bahamas. We provide daily flights to these areas, and our planes can land on the islands' smaller airstrips that commercial airlines may not be able to land.
We have weekly scheduled flights to Cat Island, Bahamas.